Best Downhill Longboards – Freeriding is now easier!
For those looking for the ultimate thrill ride, downhill longboarding is the perfect way to get an adrenaline rush.
Downhill longboarding combines the thrill of skating with the speed and agility of snowboarding.
My Criteria for selection: I research the top rated products. Read all positive and negative reviews. I also interact with those having the product. Finally, indicated by my tests and drawing from my experience, I rate the products.
It's a great way to get outside and enjoy the outdoors while testing your limits.
Whether you're a beginner or an experienced rider, there are plenty of great downhill longboards available to choose from. But with so many options out there, how do you know which is best?
We've done the research for you and compiled a list of the best downhill longboards on the market today. From affordable entry-level boards to high-end performance models, we've got something for every budget and ability level.
Keep reading to find out which board is right for you!
Best longboards that can go downhill
1. MINORITY Downhill Maple Longboard
Specifications
38.4″ length
28.25″ wheelbase
Cambered profile
Hybrid construction
Lightweight with 6.5 lb
Variable concave
Wheels up to 85mm
180mm Paris RKP trucks
70mm Stimulus
80mm Kegels
You will have to consider this longboard if you enjoy taking your longboard downhill. You can take this longboard to a very distant place where you can enjoy it fully and have the ride of your life. This longboard is meant to be one of the best longboards for taking your longboard downhill.
Reasons to Buy
Symmetrical drop-through: The la Cruz has a symmetrical drop-through, which helps you quickly cruise without getting the wheel bite. This feature is also available in the arbor but is significantly different.
Special flex and cambered profile: This longboard is narrower than the drop cruiser. It also has a unique flex and cambered profile for pumping and carving.
Cambered platform: Unlike the drop cruiser, this longboard has a cambered platform which means it is higher off the ground in the middle than at the mount points.
Special flex: This longboard gets a springy feel and a unique flex that returns a lot of energy when carving and pumping, although you have to pay the cost of pushing.
Blend of bamboo: The shape of this longboard has a little blend of bamboo, which makes it the best for cruising. Bamboo shapes are considered the best shapes because they provide stability and help you achieve the correct amount of balance.
Features
Advanced hybrid construction: The Icarus has an advanced hybrid construction. This construction includes a lot of factors like fiberglass and cork with a blend of bamboo. These all combine, achieving energetic flex, high resistance, and lightweight.
Wheel flares allow you to cruise your longboard for up to 85mm. This specification makes it very unique from others. Your wheels are not rubbed during this whole ride which is an additional point.
Support different stances: The wheels complement the deck's concave to support diverse perspectives while cruising or even freeriding.
Paris RKP trucks: It has Paris RKP trucks, which help you make deep and stable turns while cruising.
Orangatang wheels: These wheels provide a different mix of grip, roll speed, and cushioning while you are carving fast.
Pros
It has a unique flex and cambered profile, which gives you advanced carving and pumping.
This longboard is made so that it provides energetic flex and has a high amount of resistance.
It has a concave deck that supports different stances when cruising, making your ride even more comfortable.
Cons
• It is a highly-engineered and high-quality longboard which makes it pricier. That is why many cruisers cannot purchase it because this longboard offers many features, but it is more expensive.
2. MBS All-Terrain Longboard
Specification
39″ length
8-ply hardwood maple
Lightweight
Reasonable price
This longboard is very exciting in terms of downhill riding. It is also very eye-catching. It is built differently. Its shape and design are unique in their way. A lot of people get attracted to its look and features.
Reasons to Buy
Multifunctional board: It is a multifunctional longboard. It is well-known in all the categories of age. You can cruise on it whether you are a kid or an adult.
Weight limit: This longboard can carry up to 250 pounds which means it has a great carrying capacity. You do not have to worry if you are a fat adult. You can purchase it because it can carry a lot of weight.
Hardwood maple: Every longboard has a different kind of deck. The deck of this longboard is made from 8-ply hardwood maple, which is flexible enough to have an exciting ride.
Provide stability: This longboard can be easily used by kids because it offers a stability factor to you. So you do not have to worry if you are a kid. 
Features
Drop-through mounting technology has been introduced to make your ride even more comfortable and easy. This technology makes it easy to apply brakes with the right foot and effortless to push. This offers more stability for the new riders. The new riders do not have to worry while purchasing it.
Truck transforming option: One of the best things about this longboard is that you can tighten and loosen the trucks according to your requirements. This offers vast opportunities for the customers.
Midsize cruiser longboard: If you want to have a longboard of the middle size, you can have this longboard because it is very stable for cruising and it is midsize.
Pros
It has a strong and flexible deck, making the cruising even more flexible.
It can carry a weight of up to 250 lbs, so you do not have to worry if you are a heavy adult.
is a well-suited longboard for the beginner level. If you are a beginner, you must purchase it.
It is also very lightweight, so you can easily carry it anywhere.
Cons
Its bearings are not of very high quality. They may be worn down quickly. That is why you must keep this thing in mind before purchasing it.
3. Quest Skateboards Zero Dark
Specification
28.5″ long and 8″ wide
Narrow trucks of 105mm
The short wheelbase of 14.5."
63mm Hawg wheels
Soft 78A
If your cruising style is different and involves riding downhill, this is the best-built longboard you can ever have on your purchasing list. According to my experience, it is one of the best longboards if you are a sports-loving person.
Reasons to Buy
Fast and Agile: This longboard is extremely popular because it is small enough to pack in a bag and take anywhere on city streets. It is fast and agile, so you can ride it in crowded streets.
Highly turnable and kickable: Whenever I use it, I find it efficient for its turning. It is highly portable too. You can enjoy it for various reasons. Except for this, it is also kickable.
Suited jumping: This longboard has a stiff deck with a directional shape that suits it for jumping and doing various tricks when moving around the city. It also has a small nose so that you can also perform nose tricks.
Responsive and turn: The narrow trucks and short wheelbase make the board turn highly responsive. The big wheels help you to have a safe turn while pulling the tight turns.
Features
Soft wheels: The wheels are relatively huge and are relative to the deck size, which makes your longboard nice and smooth even on non-smooth grounds. You can easily have a ride on uneven ground too. 
Offers balance: The wheels offer high stability and credit to you. You can quickly turn on different paves without having faced any difficulty because of the balancing factor of this longboard.
Mini-cruiser longboard: It is also known as the mini-cruiser longboard, and you can take it to urban sides too. You can have fun on it and can ride various trucks in it while having a ride.
Pros
It has high-quality components that separate it from other longboards. These components make it even more classy and efficient.
You can easily nimble the carves while cruising. You also do not have to worry about maintaining balance and stability. 
Cons
• It is a technical longboard. So only experienced riders can ride it. It has a small size, making it even more challenging for the big riders.
4. Quest QT-NSC44C (The Super Cruiser)
Specification
7-inch Destructo aluminum trucks
ABEC 9 bearings
OS780 grip tape
Maple from Canada
41″ longboard
If you are a fan or lover of fast speed, this longboard is the best downhill longboard to fulfill your demands and wishes for high-speed skating. This longboard has a specific design and is built so that you get extra pushing power from your longboard. This unusual design makes your longboard even more worth it.
Reasons to Buy
Outstanding speed: This longboard has a very unusual design. This design makes you achieve fast speed. It will be enjoyable to buy it if you are a fan of swift speed.
Extra balance: You automatically achieve the extra balance because of the unique shape and more pushing. This balance is achieved without the risk of wheel bite. This can make your ride a lot more comfortable and versatile to use.
Excellent for beginners: If you want to learn how to ride a longboard and are a beginner, you can easily avail yourself of it because it is an excellent longboard for beginners. Keep in mind that its price rate is less than $100.
Lightweight: It is very light, which makes it portable. You can enjoy its carrying nature. You can carry it anywhere else you want. It can also be used by professionals. In the beginning, you find it difficult to get used to it. But believe me, this is not the case. It only took 10 minutes to get used to its fun ride.
Features
Aluminum trucks: Many people like it because of its 7-inch Destructo aluminum trucks. These trucks help you maintain balance and give you the perfect amount of steer. These trucks are fluid and responsive.
Bearings: This longboard has ABEC 9 bearings. These bearings are excellent rates because of many reasons. You do not need force to push your longboard because of these bearings. You get a more assertive role with the help of these bearings.
Abrasive grip tape: Besides many features, this longboard has an abrasive grip tape attached. This tape enhances overall balance and stability during the ride. This is crafted from maple from Canada.
Long-lasting skateboarding: The grip tape is so helpful that it makes your ride stable, and you can skateboard for a substantial and extended period.
Pros
You can give it to skateboarders of any age. The age limit is not restricted in this longboard.
The fluid and responsive trucks make your ride even more balanced.
Grip tape improves your stability to the extent that any age holder can have and use this longboard.
Made up of Canadian maple, which is a lot durable and long-lasting.
Cons
• When you use this longboard and try to take a turn, you will take a turn but with a significant wheel biting.
5. Fireball X Arbor Longboard
Specification
80 AB grip tape
Coated deck
70×51mm 78 polyurethane wheels
41″ longboard
9.5″ wide board
180mm of kingpin trucks
ABEC 7 precision bearings
This longboard is unique even in its name. Fireball longboard is a very sophisticated design that attracts a lot of customers out there. Its design is its plus point. You will enjoy the ride on this longboard because of its styling features. If you are a stylish skateboarder, you will love it because of its appearance and fascinating features.
Reasons to Buy
Required speed: This longboard is specifically designed with a lot of features in it. One of the main features is that you can ride according to your desired and required speed. If you are a speed lover, you will have it and enjoy it.
Stability: The longboard is built to achieve stability even on challenging terrains. This stability factor attracts a lot of skaters.
Instant turn: This longboard is used to have instant turns even on non-smooth terrains. You must keep cruising on this longboard because this longboard makes you achieve the exact balance and stability.
Features
Kingpin trucks: These kingpin trucks let you move your longboard smoothly. These kingpin trucks allow you to have control and charge of this longboard. These trucks make your ride even more fascinating.
Precision bearings: Exact bearings are attached to this longboard. These are ABEC 7 bearings. These bearings make the ride on the longboard much more exciting. This longboard is always ready to take on whatever challenges I throw.
Solid-built deck: The deck of this longboard is excellent. This deck is not even breakable. This deck is radially concave with the foot positioning. There is also no inclination present in the deck, which makes you have more smooth moves.
Wooden design: Its wooden design is beautiful. The design is made of wood, making it highly stunning. Moreover, I enjoy skating on this longboard, which is one of the best cheap longboards, according to many skaters.
Pros
Surf-style and sophisticated design make it exciting and stunning.
The deck is coated with grip tape, so you do not have to worry about balancing problems.
If you are a beginner, this longboard is excellent for you. As it is a cheap one and has a lot of features on it.
The deck has no inclination, which means you will find it easy to have your footsteps on it.
Cons
• There is a lot of plastic gathered and clustered under the truck. Tools are required to remove this plastic because it causes hindrance in cruising on this longboard.
6. Deville Longboards
Specification
41 by 9-inch maple board
Weight limit of 330 pounds
70mm wide wheels
HR82A shock-resistant Polyurethane wheels
ABEC 7 steel bearings
Steel axles
This longboard is extremely loved by a lot of skateboarders. I am genuinely in love with this longboard. Unlike other cheap boards, this longboard is high-quality tape. There is another feature installed in it named a tiny skate tool. This tool gives you a welcoming experience.
Benefits And Reasons to Buy
Eight layers: The longboard has eight layers. These layers make everything beneficial for you, as this longboard is liked by most beginners and professional skaters.
Cool shortcuts: The longboard consists of eight layers that help you find good shortcuts for the tracks. This feature makes your ride even more comfortable and exciting.
Firm grip: The longboard is designed so that you get a substantial grip on it. This grip helps you to have a stable ride. I enjoy its grip because I can easily ride on it without the hesitation of having balance and stability problems.
Wooden Structure: Besides the above features, this longboard is made of wood. The wooden structure attracts a lot of skateboarders because the structure matters a lot.
Weight limit: You do not have to worry if you are a heavy or fat adult. This longboard has a wide range of weight-carrying capacities. It can hold up to the weight of 330 pounds. It means your being heavy is not a severe problem.
Features
Concave shape: The concave shape of the longboard allows you to take it downhill, on the streets, or in the skating park. This shape opens up the doors for riding your longboard on various terrains.
For beginners and intermediate: This longboard is not only for the beginner level. But if you are an intermediate, you can also have it for skateboarding or cruising on different terrains.
Feet's leverage: Due to the concave shape, the feet's power is maximized. Because of this leverage, you can hold your longboard for the toughest and roughest of rides.
Shock-resistant wheels: The shock-resistant wheels make your ride on the longboard extremely classic. Your ride becomes problem free because of these wheels.
Solid alloy trucks: The longboard is constructed with reliable alloy trucks. These trucks keep the ride safe for beginners and experienced riders. In short, you do not have to worry about the quality of the longboard while purchasing one.
Pros
A substantial grip tape is installed in this longboard. This tape helps you to keep your foot firm and have a strong grip on your longboard.
A large deck is placed, which helps you to place your foot peacefully on your longboard.
You do not have to worry about being a fat candidate because this longboard has a carrying capacity of 330 pounds.
The steel bearings make your ride even more smooth. These bearings must be cleaned in time when required.
Cons
• The degradation of wheels and the wooden design occurs sooner than expected.
7. Landyachtz Evo Downhill Longboard
Specification
8-ply maple drop-through deck
Range of 45 to 50 degrees
78 A polyurethane wheels
ABEC 9 precise bearings
Weight limit of 220 pounds
To find the best longboard to take it downhill, you must consider this longboard. You can ride it downhill and wherever you want. This longboard has a lot of features and characteristics that make it exciting even for beginners.
Reasons to Buy
Drop-through deck: This longboard has a drop-through deck. This deck helps you in having smooth and a lot of flexible rides. It is made up of 8-ply maple wood and epoxy solution. This creates the organic maple hard.
Maple products: The deck creates a lot of maple products. These products are better for the ecosystem and the ride's fun and excitement.
Adjustable kingpin trucks: These trucks are made of aluminum and can be adjusted according to your help at 45 to 50. These trucks are perfect for tight maneuvering.
Long-term: The trucks are designed in such a way that they give a long-term performance. That is why you do not have to worry even if you are at the beginner level because this longboard carries strong properties.
Polyurethane wheels: The wheels are made of solid polyurethane. These wheels are known as 78 A polyurethane wheels and are used to operate at a high level.
Precise bearings: The wheels have ABEC 9 precise bearings. These bearings help you in enjoyable and worry-free riding. You can enjoy the ride without worrying, even at the beginner level.
Features
Recognized design: The design of this longboard is specifically designed by internationally recognized designers. Some plans are old, and some are aesthetic and refreshing for the world of skaters.
Weight limit: I like this longboard because of a lot of features. One of its best qualities is that it can carry a weight of up to 220 pounds. You do not have to worry if you have a massive weight. This longboard can carry the weight of heavy adults too.
The lightness of the board: The board itself is so light in weight that you can carry it anywhere you want. You do not have to worry about the carrying problem because it is portable.
Pros
The eight layers of wood and epoxy solution create organic hard rock maple.
The aluminum reverse kingpins can be adjusted according to your requirement for better performance and movement.
Being very long in size, it is a lightweight board that can be taken anywhere for the ride.
Cons
• When I used it, I felt that the trucks required tightening after some time. This procedure consumes a lot of time.
8. Loaded Tesseract Longboard
Specifications
Low-deck height
Speed of 20 miles per hour
Deck of 9 inches
70mm Polyurethane wheels
ABEC 11 steel bearings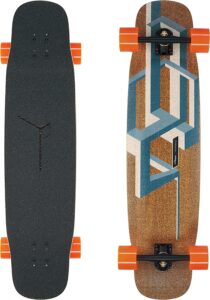 This longboard provides both features. It has a broader carving sample having drop-through features. So, if you want to enjoy both parts, you can have this longboard. This is a fantastic all-around longboard due to its low deck height for easy pushing. It is one of the best downhill longboards.
Reasons to Buy
Downhill riding: This is a brilliant and excellent longboard for downhill riding. You can easily take it downhill. First, let us point out that taking your longboard down the hills is always tricky. You face a lot of sliding problems there. But still, you can take this longboard downhill for a fun ride.
Easy to push: The quality of easy to push makes this longboard even more worthy. This longboard is easy to push, which saves a lot of time, and you do not have to work hard.
Long-distance riding: As it is easy to push, you can take it for long-distance riding. The reason is you do not have to do a lot of hard work to push it in the direction you want to. That is why it is more exciting and fun.
Features
Unique deck: The particular deck is attached to this longboard. This deck has a size of 9 inches. You can use this deck for a smooth, peaceful ride and blasting around corners.
Polyurethane wheels: The wheels are a size 70 mm, which gives you luxury and a super smooth and exciting ride. These wheels make your longboard even more worth it because of their toughness and flexibility. 
Steel bearings: The bearings are ABEC 11 steel bearings. These are made using metal bolts. It would be best if you cleaned them after they got dirty. Otherwise, these will affect your ride.
Aesthetic colors: The longboard comprises aesthetic and unique colors, making your longboard even more eye-catching. The fantastic colors of the longboard make it more attractive to customers.
Unique patterns: Besides the fantastic colors, this longboard has unique ways. These patterns even include outer space designs. These designs catch more customers.
Pros
Has an expensive deck that measures 9 inches and is used for easy pushing.
Having 70 mm big wheels makes it more reliable because they are made up of high rebound polyurethane.
High-quality trucks, bearings, and metal bolts are attached to them, which increases the quality of this longboard.
This longboard has a complementary color scheme that matches the overall design.
Cons
• It may irritate some beginners because it has a high tilting level.
Frequently Asked Questions
What type of longboard is best for downhill?
The best type of longboard for downhill is a drop-through deck. Drop-through decks are designed to provide stability and control when going downhill. They feature a lowered center of gravity, which helps keep you in control even at high speeds.
The trucks and wheels used for downhill riding should also be large and soft for extra grip and shock absorption.
Is a downhill longboard good for beginners?
No. Downhill longboards are designed for high-speed downhill riding and are typically used by experienced riders. Beginners should use a cruiser or traditional longboard that is designed for more casual riding.
What is the best wheelbase for downhill?
The best wheelbase for downhill depends on the rider's skill level, size and type of terrain they're riding. Generally, longer wheelbases provide more stability and better control at higher speeds while shorter wheelbases allow for increased maneuverability in tight spaces.
Ultimately, it is up to the rider to decide what works best for them based on their individual needs.
Are 50 degree trucks good for downhill?
No, 50-degree trucks are not good for downhill skateboarding. Downhill requires more stability than 50-degree trucks can provide. You should look for lower-angle trucks, such as a 43 or 45-degree truck if you plan to do downhill skateboarding.
How fast can a downhill longboard go?
The speed of a downhill longboard can vary greatly depending on the terrain and rider, but it is not uncommon for experienced riders to reach speeds of up to 70 mph (112 km/h).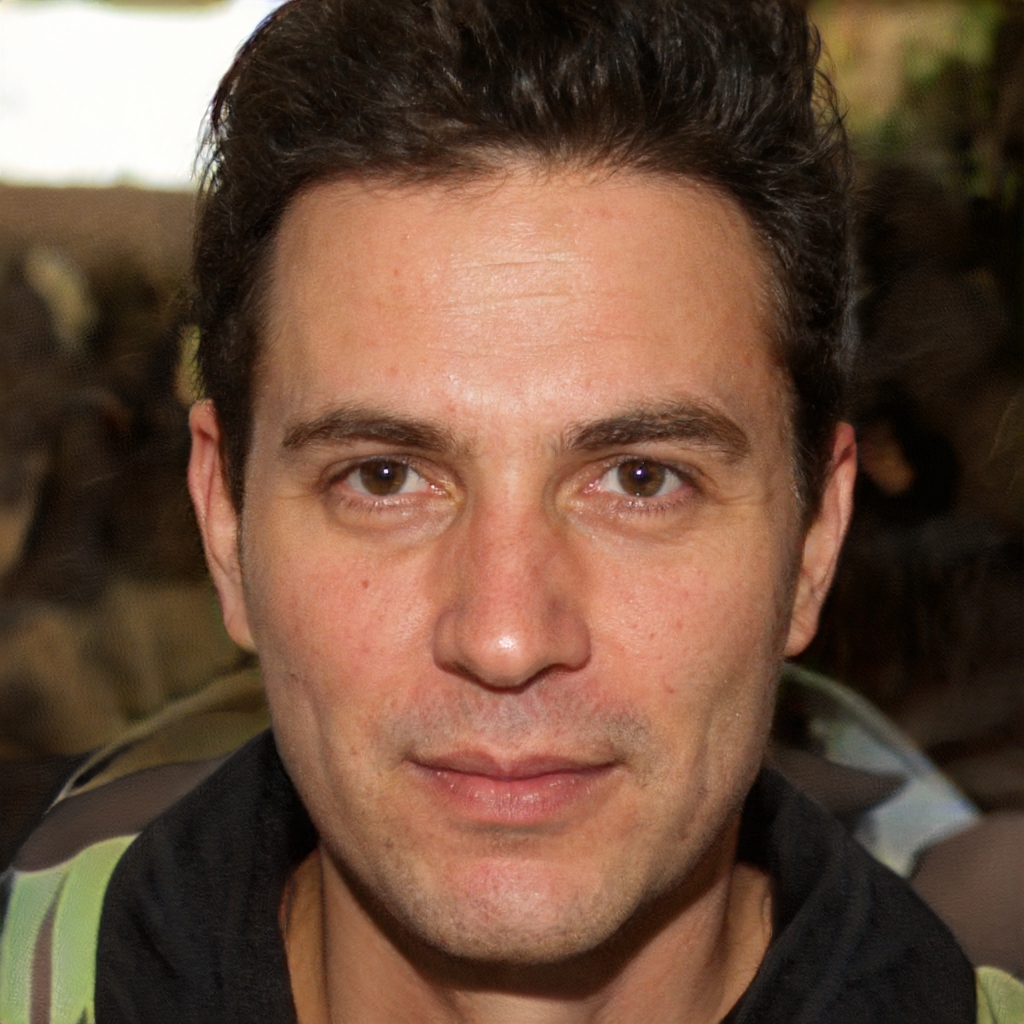 I am a longboarding enthusiast and a blogger. On this blog, I share tips, tricks, and advice based on my experience. I am dedicated to helping newbies improve their skills and enjoy this fun activity to the fullest.
Disclosure:This post may contain affiliate links. If you click on a link and make a purchase, we may earn a commission at no additional cost to you. Learn more.